Author Spotlight: Kathryn Berla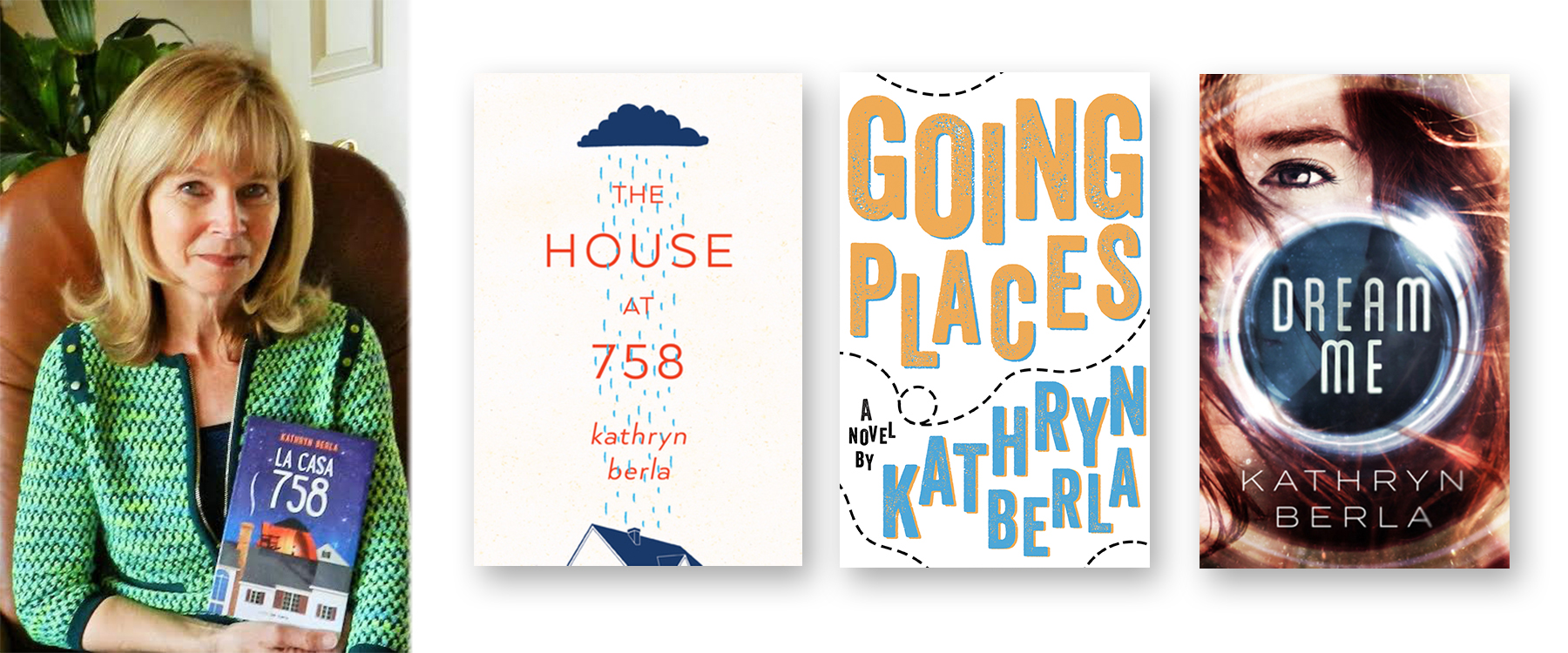 In this week's Midpoint Author Spotlight we sit down with Amberjack Publishing's, Kathryn Berla, author of a new YA novel The House at 758 (9781944995249), the highly acclaimed Dream Me (9781944995201) and forthcoming in Spring 2018 Going Places (9781944995539).
Tell us, what are you reading right now?
Girl At War by Sara Novic
Favorite childhood book:
Charlotte's Web by E.B. White
Hobbies? (Other than writing!)
Reading, of course. Watching movies, traveling, hiking and exercise.
What's the best piece of advice you could give to someone considering writing a book:
Just sit down and force yourself to write every day. I stick to a daily word count of 1000 when I'm actively working on a novel.
Any hidden talents? Or something people might be surprised to know about you?
I am actually a crime-fighting superhero at night. Well, maybe not that. I have a ton of useless information stored in my head making me a decent armchair Jeopardy contestant. I've been a paper delivery girl and a projectionist in a funky old repertory theater in which part of my job description was driving people to the emergency room when they received a puncture wound to the butt from a protruding spring in the dilapidated theater seat. Thankfully, that last part only happened once.
You're deserted on a tropical island and you could only bring one book with you. Which would it be?
The Crock of Gold by James Stephens
Did you always know you wanted to write? How old were you when you decided to become an author?
I always loved to write. When I was young I wrote in my diary and created family newspapers. In high school I had a wonderful English teacher, Mrs. Muth, who nurtured my love of writing and encouraged me to believe it could be a real path I might one day pursue. In college, I studied creative writing. But then life happened and I got sidetracked until coming back to it about five years ago. I believe there's a time and place for everything in your life and this is my time to devote myself to writing.
Favorite season and why?
Spring because summer is coming and I always like to look forward to something. I know I'm supposed to just live in the moment but that's my honest answer.
Are you working on your next book yet? If so, what can you tell us about it?
I can tell you that I recently finished my first novel written specifically for adult readers (women's fiction psychological suspense). It's called The Kitty Committee and will be published by Amberjack Publishing in August 2018. I'm currently pondering one of three ideas for my next novel and I'm sure I'll have a few others before I actually start writing again in October.
Favorite thing about writing a book? Least favorite thing about writing a book?
Favorite thing is just writing it once I get past the first ten pages. Least favorite thing is losing touch with all my friends for 3-4 months while I'm in writing mode.
Kathryn graduated from the University of California in Berkeley with a degree in English and studied creative writing under Walter van Tilburg Clark at the University of Nevada. She currently resides in the beautiful San Francisco Bay Area. Check out Kathryn's website and connect with Kathryn on Facebook, Twitter and Instagram.