Cartons
Pack only one ISBN per carton. (If sending small quantities of multiple titles, it's OK to put these books in one carton. Be sure the carton is labeled "MIXED CARTON" on two sides.)

Maintain consistent carton quantities for each ISBN (partial carton counts are not allowed)

Do NOT use packaging "peanuts" for case filler. Instead, use paper, bubble wrap or air packs.

Recommended Corrugated Container Specifications: 275# Single Wall.

Carton weight must not exceed 50 lbs.
Carton label
Carton product labels or marking should appear on at least two sides of the carton, one of which must be the long side of the carton.

Each carton must be clearly marked with: quantity, ISBN, title, publisher, carton weight and country of origin.

Number cartons in overall shipment and mark each carton accordingly (e.g. "Carton 1 of 10").

If cartons are not packed or labeled correctly, we will repack or re-label them for a fee.

Example of a carton label. Please be sure your label(s) contain all the elements in the example below (the barcodes are optional):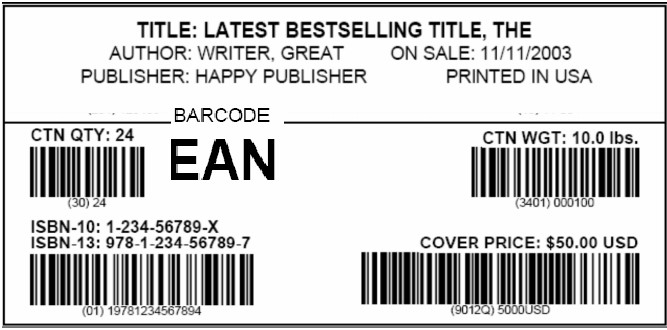 Pallets
Anytime you ship more than a few boxes, please palletize shipment rather than sending the boxes individually.

Use only new 40" x 48", 4-way pallets.

Maximum weight not to exceed 2,200 lbs per pallet.

Stack pallets no higher than 50", including the pallet itself.

Cartons must not extend beyond the edge of the pallet.

Stretch-wrap pallet so cartons and pallet are held together securely.

Number pallets per shipment (e.g. "Pallet 1 of 10").

If more than one ISBN per pallet, separate ISBNs with slipsheet or shrinkwrap.

Stack cartons in uniform inter-locking positions (criss-cross the layers of cartons).

If books are not palletized properly, we may have to manually re-stack the cartons for a charge of $25/pallet for labor and materials.

Each pallet should be marked on at least two sides with the following information:
If single ISBN per pallet: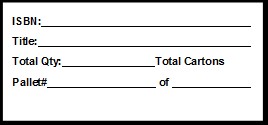 ISBN
Total cartons
Title
Total quantity of books
Pallet count
If multiple ISBNs per pallet: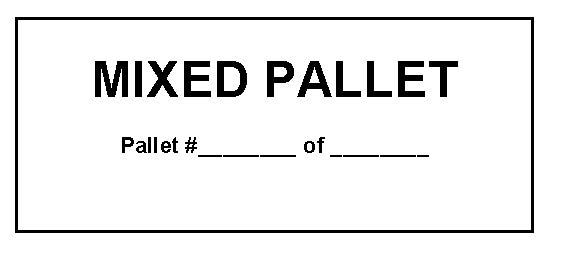 "Mixed pallet"
Pallet count
Shipping Documents
Packing list

A packing list must accompany all shipments and should be enclosed or attached to the lead carton marked "Packing List Enclosed".

Packing list should contain: title, ISBN and total number of units, cartons and/or pallets of each ISBN.

Bill of Lading

A Bill of Lading (BOL) must accompany all palletized shipments. The BOL should contain the following information:

Midpoint Trade Books is the "consignee".

Include your book titles and ISBNs in the body of the Bill of Lading.

Total number of cartons and pallets.

Total weight per shipment.
For shipments arriving before February 15, 2019:
Delivery Appointment Scheduling
Bill of Lading must instruct the carrier to call for delivery appointment (24 hours advance notice preferred). Example: "Delivery Appt. Required 24 hrs in Advance. Call

615-213-7771 or 615-213-7772

."

R

eceiving hours are 6:00 AM to 2:30 PM (Central time).

The following information is required when making a delivery appointment:

Number of cartons per shipment

Number of pallets per shipment

Carrier name
Ship to:
Midpoint Trade Books
Attn: Receiving
1550 Heil Quaker Blvd.
LaVergne, TN 37086
For shipments arriving after February 15, 2019:
Before shipping inventory to Midpoint/IPG, please contact julie@midpointtrade.com. Include the title, ISBN, and quantity you are shipping as well as shipping carrier (UPS, FedEx, etc) and tracking information (if available). Also, include the date you expect books will arrive in Chicago. Please do not send any books to us without connecting with Julie first.
Please round to carton or pallet quantities where appropriate and include a packing list with your shipment to the address below.
For a shipping quote on inbound freight, please e-mail the pickup address, number of pallets, and approximate weight to routing@ipgbook.com. The distribution center is a high-volume shipper and we have access to very low rates.
Ship to:
IPG Receiving Department
600 North Pulaski Road
Chicago, Illinois 60624