We sat down with Emerson Klees, author and publisher of a number of titles including Success: Role Models of Winners, Finger Lakes Wineries: A Pictorial History, Legends and Stories of the Finger Lakes Region, and Emotional Intelligence: People Smart Role Model and more. Emerson holds a BS in Electrical Engineering from Pennsylvania State University, an MBA from NYU, and a MA in English Literature (Creative Writing track) from SUNY College at Brockport. He is the owner and publisher of Friends of the Finger Lakes PUblishing and it's imprint Cameo Press.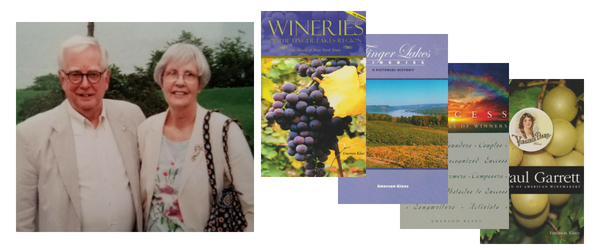 Above: Emerson (left) and his wife, Patricia.
Hi Emerson. Nice to speak with you. First off, tell us something about yourself, do you have any hobbies other than writing?
As you can tell from the subject of a few of my books, I have an interest in winemaking. I used to actually grow grapes and make wine myself!
Did you always know you wanted to write?
Not always, but since I was young, in my twenties. But I didn't actually write and publish anything until I was in my fifties.
Why did you wait so long?
Writing was a hobby and not my career. I served on active duty in the US Navy a the the New York Naval Shipyard where I was the Ship Superintendent for Electronics. This was during the construction of the aircraft carriers the USS Independence and the USS Constellation. Then I worked for the Eastman Kodak Company until 1991. After that I was an adjunct professor at the Rochester Institute of Technology. I was busy to say the least!
What's your favorite thing about writing a book?
That's easy, the research and actual writing.
And your least favorite?
Also easy, editing and proofreading.
Tell us, what are you working on next?
A book called Heroes and Heroines: Role Models & Legends about heroes and heroines in history and the military.
All of Emerson's titles can be found on our website (midpointtrade.com).